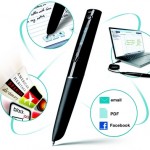 While it might appear as if I am phoning in the effort today because I am essentially linking to a post on tjarthur.com, there is a good reason. (Note: I planned the 2:1 because it's finally perfect golfing weather in the Northwest)
Have you ever noticed that when you purchase a new car you start to see more of those cars on the road? The cars were obviously already there, but you now have a heightened sense of awareness about the car. The same holds true for my new favorite productivity tool, the LiveScribe Echo 8MG Smartpen. Since I bought the pen, I have noticed several physician friends who also use the device. That got me thinking about the ways in which this could be of use to physicians.
I suspect there is a lot of opportunities still untapped. If you are or have used a LiveScribe Smartpen of one type or another, shoot me a note and let me know what worked and what didn't for you.
You can read my review HERE
Thursday I am going to be writing about Evernote…a great companion tool for the LiveScribe Smartpen.